The Thirteen Petalled Rose Class
Past Sessions
Wednesday, March 11, 2020

•

15 Adar 5780

-

1:00 PM - 2:00 PM

-

CBT
Wednesday, February 12, 2020

•

17 Shevat 5780

-

1:00 PM - 2:00 PM

-

CBT
Wednesday, January 22, 2020

•

25 Tevet 5780

-

1:00 PM - 2:00 PM

-

CBT
Wednesday, January 8, 2020

•

11 Tevet 5780

-

1:00 PM - 2:00 PM

-

CBT
Wednesday, December 11, 2019

•

13 Kislev 5780

-

1:00 PM - 2:00 PM

-

CBT
Wednesday, November 20, 2019

•

22 Cheshvan 5780

-

1:00 PM - 2:00 PM

-

CBT
Wednesday, October 30, 2019

•

1 Cheshvan 5780

-

1:00 PM - 2:00 PM

-

CBT
Wednesday, October 16, 2019

•

17 Tishrei 5780

-

1:00 PM - 2:00 PM

-

CBT
Wednesday, October 2, 2019

•

3 Tishrei 5780

-

1:00 PM - 2:00 PM

-

CBT
Wednesday, September 4, 2019

•

4 Elul 5779

-

1:00 PM - 2:00 PM

-

CBT
AN EXCITING LEARNING OPPORTUNITY
for MEN AND WOMEN
CAPTURE THE ESSENCE OF JEWISH EXISTENCE AND BELIEF
TAUGHT BY THE AUTHOR's STUDENT,
RABBI PINCHAS ALLOUCHE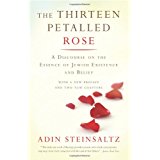 We are privileged to begin the study of the book,
THE THIRTEEN PETALLED ROSE, BY RABBI ADIN STEINSALTZ.
CLICK HERE to order the book. Rabbi Steinsaltz has been
described as a person who possesses a mind of the quality that occurs perhaps once or twice in a generation, or several generations. Judaism lives because occasionally such a mind becomes its instrument of transmission and renewal. (Herbert Weiner, Oxford University.)
THIS IS AN EXCEPTIONAL OPPORTUNITY THAT
YOU WON'T WANT TO MISS!
FOR FURTHER INFORMATION PLEASE CONTACT
Share Print Save To My Calendar
Thu, August 6 2020
16 Av 5780
Zmanim
Alot Hashachar
4:22a
Earliest Tallit
4:55a
Netz (Sunrise)
5:44a
Latest Shema
9:08a
Zman Tefillah
10:17a
Chatzot (Midday)
12:33p
Mincha Gedola
1:07p
Plag HaMincha
5:57p
Shkiah (Sunset)
7:22p
Tzeit Hakochavim
8:02p
More >>
Thu, August 6 2020 16 Av 5780